Custom Deck Builders in Potomac, MD
Looking for the best custom deck builders for your property in Potomac, MD, or the surrounding areas? Look no further. At Colao & Peter – Luxury Outdoor Living we take pride in pushing the boundaries of outdoor craftsmanship, consistently aiming to exceed expectations with attractive and functional outdoor decks. With a focus on innovation and customer satisfaction, we are proud to be the driving force behind the creation of stunning, enduring custom decks in the community.
What sets us apart as premier custom deck builders is our unparalleled skill and dedication to excellence. We are adept in a wide array of deck styles, including composite, hardwood, multi-level, rooftop, and specialty designs, ensuring that your dream outdoor space becomes a reality. Let us bring your deck dreams to life–contact us today to start designing your custom deck today!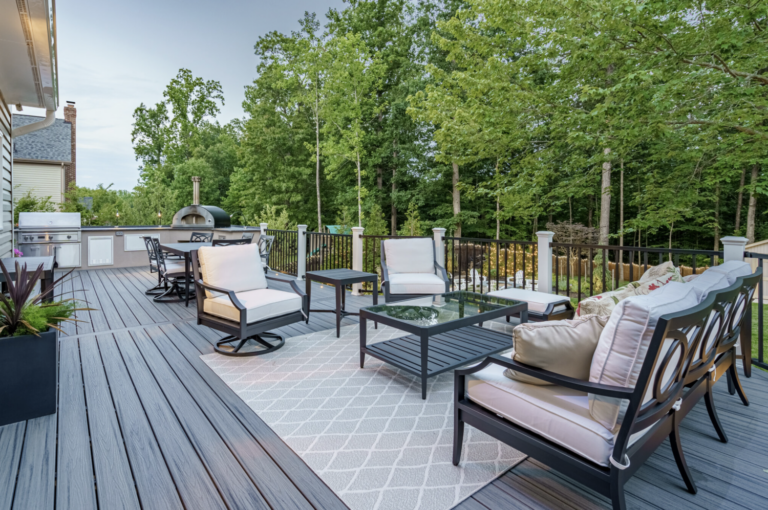 Design-Build Custom Deck Builders in Potomac, MD
Design-build custom deck builders offer a comprehensive approach, ensuring that your vision is not just understood but perfectly executed. Our deck builders streamline the process by combining the design and construction phases, providing a seamless experience where your desires are meticulously translated into an exceptional outdoor space.
No matter what you desire, our deck builders are there to create a sustainable custom deck that withstands the elements and the test of time. Our deck builders are skilled in crafting a wide range of custom deck options for Potomac, MD, including:
Composite decks
Hardwood decks
Multi-level decks
Wraparound decks
Rooftop decks
Pool decks
Enclosed or screened-in decks
ADA-compliant decks
Eco-friendly decks
and more!
Deck Builders in Potomac, Maryland
Against the backdrop of scenic Maryland, Potomac is a charming community with a unique appeal and a close-knit community atmosphere. The allure of this area lies in its stunning properties, green spaces, and a welcoming atmosphere that fosters a sense of unity. If you are a resident of Potomac, MD, let our team help you create an outdoor area you can be proud of with custom deck building!
At Colao & Peter – Luxury Outdoor Living we stand as the premier choice for custom deck builders in Potomac, MD, or the surrounding areas. With over a decade of experience in creating custom outdoor living spaces, our commitment to precision and care shines through every project. From front porches to pool decks, our deck builders collaborate with you to bring your vision to life, ensuring that the deck we craft is not just a structure but a beloved space that you will cherish for years to come. Contact us today to chat with a custom deck builder in Potomac, MD, or the surrounding areas.