Fire & Water Features for Luxury Landscaping and Outdoor Design
In Washington, DC, Leesburg, McLean, Arlington, Sterling, Great Falls, VA, and the Surrounding Areas
Fire and elegant water features complete luxury outdoor living spaces. Outdoor fireplaces and firepits turn cool nights into warm, cozy atmospheres, perfect for star-gazing or roasting marshmallows. Landscape water features reflect the dazzling lights from the fires, add soothing ambient sounds, and transform your yard into an oasis you'll want to retreat to on any hot summer day.
At Colao & Peter Luxury Outdoor Living, we provide custom, high-quality fire and water features in and around Sterling, VA, Washington D.C., Leesburg, Great Falls, VA, and McLean, VA. We provide quality throughout the entire customer experience, ensuring that your new space meets your design goals and brings a resort-like experience to your home.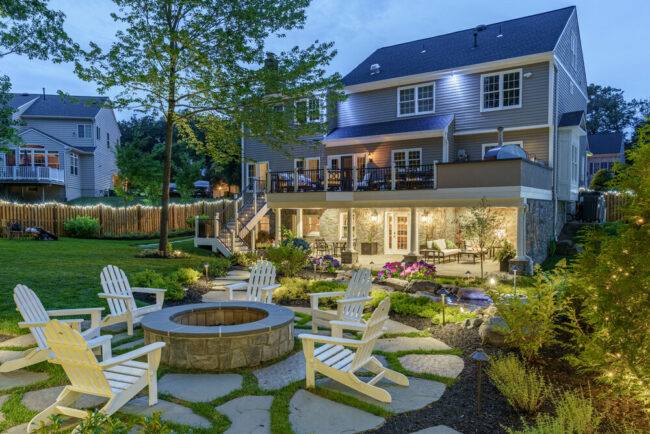 Luxury Landscaping Company
Our dedicated team goes beyond installing outdoor fireplaces, firepits, and landscape water features—we provide comprehensive landscaping to seamlessly blend all aspects of your yard. Our luxury landscaping services include detailed and visual design prints outlining the lighting, walkways, hardscaping, retaining walls, home additions, outdoor kitchens, and anything else you desire.
Whether you have a blank space that you want to bring to life, or you want to modernize your existing structures, features, and pathways, we can help. Our experienced team will listen to your style preferences and wish list requests to customize the perfect design for your home.
Our designers understand complex element factors, like temperature requirements, recreational uses, and design factors, and can use this knowledge to help you pick the best features for your yard. If you want to build a fireplace to stay warm on cold nights or add a custom pool for summer swims, we can provide perfectly tailored outdoor designs to exceed your needs. Our team operates in and around Sterling, VA, Washington D.C., Leesburg, Great Falls, VA, and McLean, VA.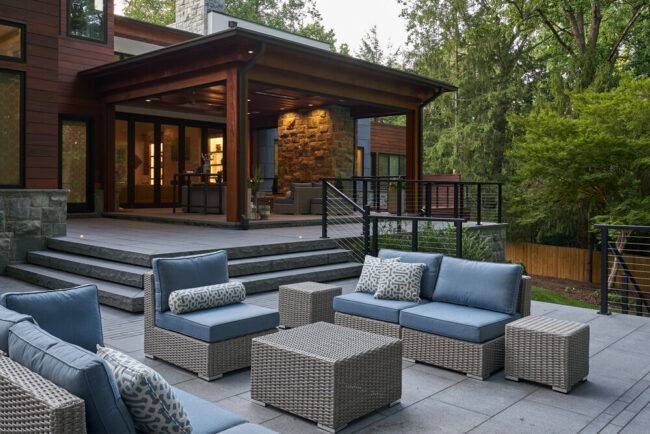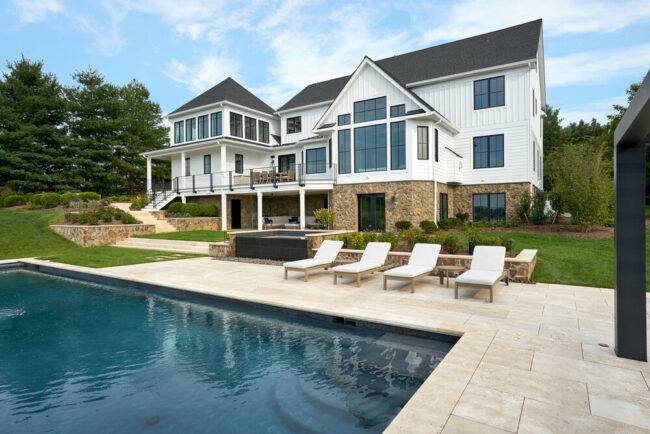 Landscape architecture requires the perfect balance between functional elements and organic beauty. Our designs take advantage of your yard's natural features, so all new additions feel purposeful, seamless, and aesthetically pleasing. Our designers can transform eyesore outdoor kitchens into functional yet jaw-dropping spaces with a high-end resort feel.
If you're interested in fire and water features in or around Sterling, VA, Washington D.C., Leesburg, Great Falls, VA, and McLean, VA, our team can help. Our detail-oriented team offers professionalism at every step of the process and delivers high-quality results every time.
Contact Colao & Peter Luxury Outdoor Living today to discuss your landscaping wishes with our experts so we can begin designing the yard of your dreams.