Landscape Design in McLean, VA
Your outdoor landscape design deserves to be a captivating sanctuary where you can unwind after a long day–and that is exactly what we offer! At Colao & Peter – Luxury Outdoor Living we transcend the ordinary, pioneering an innovative approach to landscape design that breathes new life into your McLean, VA property.
With an unwavering commitment to excellence, our landscape architects blend landscaping and hardscaping, maximizing available design potential to create an attractive outdoor space you love. From concept to installation, we tailor every detail, embracing sustainability, and crafting functional landscape designs. Contact us today to learn more about landscape design services for McLean, VA, and the surrounding areas.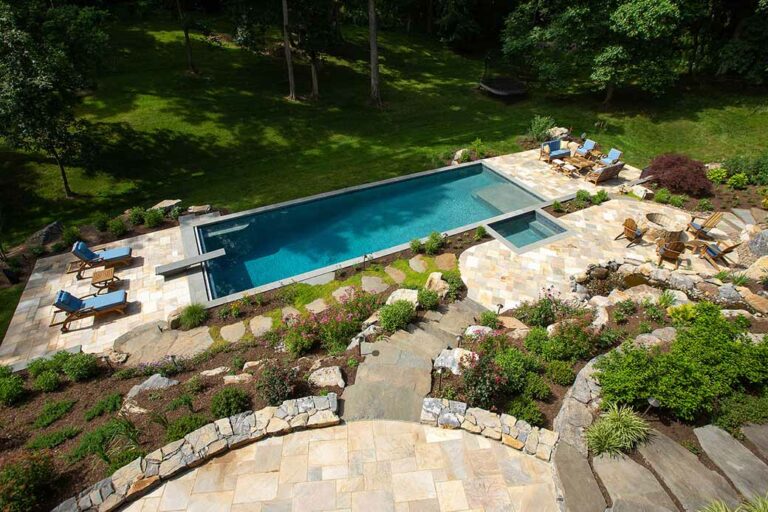 Landscaping Architects for Outdoor Design in McLean, Virginia
As a leading landscaping company for outdoor design in McLean, Virginia our landscape architects specialize in transforming outdoor spaces into stunning, functional landscapes that harmonize with your property's natural beauty. Our expertise lies in crafting a range of landscape designs that cater to diverse preferences and needs, ensuring that each outdoor space is not just beautiful but also practical and sustainable. Whether you envision a serene oasis with sustainable garden designs or a traditional garden layout that echoes timeless elegance, our landscape architects are equipped to bring your vision to life.
Our landscape architects incorporate several innovative methods and outdoor design elements to create unique landscaping designs for your property. Our landscape design services include:
Sustainable garden designs
Modern and minimalist landscaping
Traditional and classical garden layouts
Native and drought-resistant plant installations
Hardscaping and softscaping solutions
Eco-friendly and low-maintenance landscape options
Contemporary and Zen-inspired outdoor designs
and more!
Landscaping Company in McLean, VA
McLean, Virginia has an irresistible charm, making it both a delightful place to visit and an ideal place to call home. Situated just outside Washington, D.C., McLean offers a serene suburban retreat with a lush landscape and elegant neighborhoods. The area's proximity to the nation's capital provides access to cultural attractions but also a peaceful retreat where families can enjoy the beauty of the natural surroundings.
At Colao & Peter+ – Luxury Outdoor Living, we are the foremost landscaping company in McLean, VA, and the surrounding areas. Our landscape architects specialize in crafting luxurious and sustainable outdoor spaces where innovation and eco-conscious design merge. With our design-build process we collaborate closely with you to bring your vision to life and create a landscape design you can be proud of. Contact us today to see for yourself while we are considered the best landscaping company for outdoor design in McLean, VA, and the surrounding areas.