Landscape Design, Yard Maintenance, Landscape Architects, and More in Great Falls, VA, and the Surrounding Areas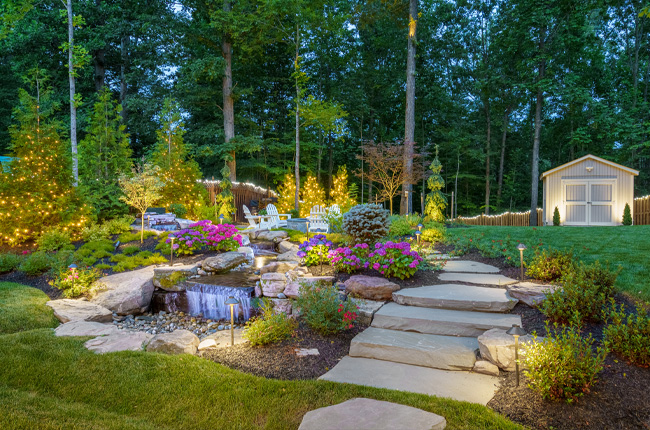 Colao & Peter Luxury Outdoor Living is the premiere landscaping company for Great Falls, VA, and the surrounding areas. With over 20 LCA Awards under our belt and unparalleled customer service, we have the expertise, passion, and technology needed to produce attractive, five-star landscape designs for your outdoor space.
Book a consultation today to learn more about our outdoor living company and start planning your landscape design!
Outdoor Design in Great Falls, VA
From the early stages of outdoor design through the completion of luxury landscaping installation, our team works alongside you to craft intentional spaces that bring your outdoor area to life. Using sound landscape design principles, our landscape architects combine complementary elements to enhance the look, feel, and function of your space.
Our outdoor design experts use the following elements to craft your outdoor area:
Custom Pools & Spas
Decks & Carpentry
Hardscapes & Masonry
Walkways & Driveways
Pool Houses
Fire & Water Features
Retaining Walls
Outdoor Furniture, and more!
Yard Maintenance in Great Falls
Yard maintenance is much more than simply trimming and mowing. Lawn maintenance encompasses a wide range of activities that relate to the upkeep of outdoor living spaces. But just because someone claims to be a yard maintenance expert does not mean that they are!
Our lawn maintenance team is trained to provide luxury yard maintenance services that are tailored to fit your property. Equipped with all the tools needed to effectively maintain your landscape, our lawn maintenance crew takes care of your grounds with the utmost attention to detail so you can enjoy a luxurious and attractive outdoor landscape design year-round.
Landscape Architects for Great Falls, VA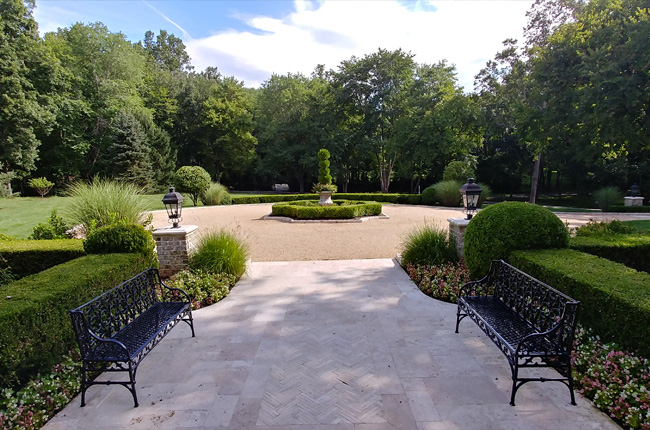 Seated in Fairfax County, Great Falls, Virginia is an incredible natural destination in the Washington, D.C. area. Home to the Great Falls Park, Meadowlark Botanical Gardens, Scott's Run Nature Preserve, and other impressive displays of nature, Great Falls attracts thrill seekers from around the globe. But more than a great place to visit, Great Falls, VA is an excellent place to live with a suburban feel and family-friendly attractions.
At Colao & Peter Luxury Outdoor Living, our landscape architects in Great Falls, VA create beautiful outdoor designs that mirror the natural beauty of the surrounding areas. Working closely with homeowners to create landscape designs that are both functional and aesthetically pleasing, our landscape architects maximize the available space of landscapes, all while incorporating a homeowner's unique desires for their space. Let us help you turn your landscape into an attractive space that you can be proud of! Contact us today to see why we are the preferred landscaping company in Great Falls, VA, and the surrounding areas.