Professional Landscape Design in Arlington, Virginia
Arlington, Virginia, is just across the river from the nation's capital, but its tree-lined streets and charming homes may as well be a world away. When you want to turn your Northern Virginia property into a luxurious outdoor space with award-winning landscape design, turn to Colao & Peter — Luxury Outdoor Living. With unmatched experience and creativity, our inspired landscape architects will turn your Arlington property into a private oasis that transports you to a fantastic vacation spot without leaving the backyard.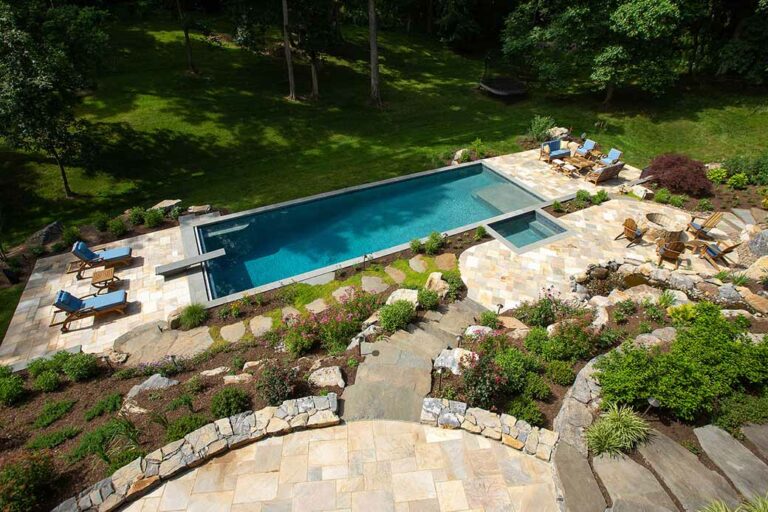 Accomplished Landscape Architects in Arlington, VA
Discover the Difference of a Custom Landscape Designed by Professionals
Colao & Peter — Luxury Outdoor Living is not your average landscaping company. We are a white-glove outdoor living company that goes beyond manicured lawns and gardens to create elegant and functional spaces that are extensions of your home.
A well-designed outdoor space requires attention to detail, and the little things are a passion for the landscape architects of Colao & Peter — Luxury Outdoor Living. Whether you need an expansive space for entertaining or simply want a comfortable spot to relax and unwind at the end of a long day, our luxury landscape designs prioritize your needs and include unexpected but thoughtful details. Our clients deserve more than bland designs that follow standard formulas, so we produce landscapes that elevate their outdoor spaces far above the rest.
Landscaping Company in Arlington, Virginia
If your Arlington, Virginia, property needs refreshing, our landscape architects will create a cohesive outdoor space plan that incorporates the features you want, from multi-level decks to fire pits. Whether you dream of a tropical-style swimming pool or an expansive deck with a full kitchen, we'll make it a reality with carefully selected hardscape and softscape elements that enhance your home and look like they have always been there.
Let Colao & Peter — Luxury Outdoor Living turn your yard into a showplace. Our landscape design and outdoor living company can unleash the potential of your Arlington, Virginia, property, so reach out today.
Arlington, Virginia, is the second largest city in the Washington, DC, Metro area, with more than 200,000 residents. With roots in Colonial America, Arlington is best known for the National Cemetery and Tomb of the Unknown Soldier and the Pentagon. With easy access to Washington, DC, and incredible views of the city across the Potomac, it's often bustling with both tourists and locals, many of whom work for the government or military.
Contact us today to learn more about landscape design in Arlington.